HOME
The Beginning
First cut
Transom & Battens
Long Beam & Keel
Sole & Decking
Turning Over
Cabin
Windshield
Bullwork
Engine & Electrical
Getting on the Trailer
Launch!
Contact Me
Other Cabin Skiffs
Links
Anacapa Trip
Hummer
Moab 2007
HOME

After the decking is installed the boat is turned over.
All of the stitching is removed. It is then coated with epoxy resin and all of the seams are fiber glassed with 2 layers. Then it is leveled out with resin putty. After sanding, the entire hull is covered with fiberglass cloth and epoxy is "squeegeed" into the fiberglass weave. I was a little nervous about doing this but with the help of a couple of my friends, it came out great. After drying, 2 more layers of epoxy are added. This process is taking much longer than expected due to the weather. There are very few days above 70 degrees now. This is the minimum temperature needed for the epoxy to cure. I have to put heaters in the makeshift tent that I have built to achieve the temperature. After many, many, many hours of sanding it was finally smooth. What a pain! I must say that this was the least enjoyable part so far.
I now have to install the skeg. (A long piece of wood attached to the bottom center of the boat to keep the coarse of the boat straight) again, the temperature is a problem so I fire up the heaters.
Hull Fiber glassed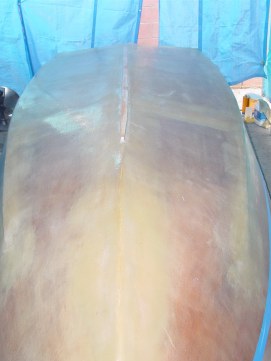 It is now Dec. 27th and I am finally ready to paint the bottom. There is only one problem, it's raining! My goal, when I started, was to have the boat turned back over by New Years but I don't think that I will make it. With the help of my friend John, we finally put the first coat of paint on Dec. 29, 2001. We used Trilux Bottom Paint 5498 White.